Non-Profits & Charities – Canada
Ensuring every student has a dress for grad regardless of finances.  (Wetaskiwin, Alberta Canada)
We help you dress like a princess without paying a king's ransom. Offering affordable sales, rentals and donations of new and gently used gowns. Because you are worthy of saving money!!
Founded in 2016, we have donated more than 2000 gowns to date. Hoping to expand in to Edmonton to grown our popularity of helping save families money. 
Contact: Infoforthepromproject@gmail.com
---
Room to Read is a leading non–profit focused on girls' education and children's literacy in Asia and Africa. Learn more, donate, and get involved.
---
WOMEN'S GLOBAL EMPOWERMENT FUND
Since 2007, this advocacy group has been empowering under-privileged women in Uganda by offering business training and access to microloans to help facilitate their professional independence. The group's contributions have emboldened Ugandans, with five women affiliated with WGEF's programs running for—and winning—political office in 2016.
---
WOMEN FOR WOMEN INTERNATIONAL
This nonprofit seeks to support women displaced or marginalized by conflict and oppression in eight foreign territories including Iraq and Rwanda. Many of their efforts are education-based, facilitating classes and finding opportunities for graduates. Currently, the group is offering psychosocial and educational resources to Syrian women in the Kurdistan region of Iraq, with a goal of reaching over 3000 women in the next three years.
---
SCHOOL GIRLS UNITE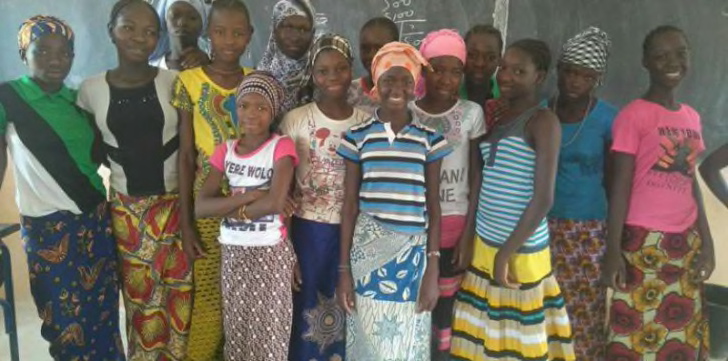 School Girls Unite
This nonprofit tackles education discrimination among young women in developing countries. In Mali, Africa, for example, only one in four girls make it to 7th grade. School Girls Unite subsidizes their education, often at a cost as little as $75 per child, and follows the recipients to encourage them to complete their education.
---
ANITA B. ORG
Since 1987, this social enterprise has pursued the mission statement of founder Anita Borg by putting women in a position to excel in the technology field. The group provides resources for education in coding and diversity both in the U.S. and abroad. In India, they organize career fairs for women only, offering companies the chance to improve their gender diversity in the workforce.
---
FRIENDSHIP BRIDGE
Offering financial resources to poverty-stricken areas of Guatemala, Friendship Bridge offers opportunities for education and entrepreneurial training that would otherwise be unavailable. By offering microcredit loans, women collaborate with other members of a "trust" and take part in educational sessions as part of the terms of the loan. By combining capital with resources, Friendship Bridge is able to facilitate better working conditions for the population.
---
Women's economic success depends on so many variables. Dress for Success Worldwide tackles a number of these barriers from appropriate dress to skill development, help in job search and tools for staying relevant in today's business world.
Dress for Success is now in 30 countries with 154 offices serving more than a million women since its founding 20 years ago. Volunteers are a huge help, numbering about 12,000 worldwide.
There are numerous ways to get involved with this inspiring charity, from donating money or professional clothing, to volunteering, to setting up an affiliate in your city.
Dress for Success goes beyond just providing "a suit." Clothing is essential but also networking, mentoring, and life skill development all help women achieve their dreams of economic independence.
Dress for Success is a 4-Star Charity at Charity Navigator.
---
GLOBAL FUND FOR WOMEN
Global Fund for Women
Movements big and small have been influenced by this nonprofit that seeks to finance efforts toward equality. The group has helped over 5000 directives in 175 countries since 1987, including efforts to improve women's working conditions and halt human trafficking.
---
SHARE & CARE FOUNDATION
Helping women thrive in rural India in the focus of this nonprofit, which prioritizes education, health care, and gender equality. Their goals have emphasized self-defense training for women as well as financial management skills.
---
Camfed, founded in 1993, has been focused on alleviating poverty in Africa by educating girls and turning them into future leaders of their societies.
Camfed has touched the lives of more than 2.5 million children in Zimbabwe, Zambia, Tanzania, Ghana, and Malawi, primarily in poorly served rural areas. Camfed has also trained more than 19,000 alumnae to be advocates of change.
Camfed prides itself on assessing the hurdles that stand in the way of girls going to school, from transportation to school fees to ending child marriage. Camfed works with community members to design and implement educational programs in a sustainable way.
Camfed is a 4-Star Charity at Charity Navigator.
---
Philanthropy is undergoing a rethink. And Kiva has been a leader in that rethinking.
Founded in 2005, Kiva specializes in giving loans to people, who pay those loans back. This is not a traditional charity. It is empowerment. More than one billion dollars have been lent in this way since Kiva started.
Kiva is not just for women, but 81 percent of its beneficiaries are women, often entrepreneurs who found small businesses that help them, their families and their communities.
How does Kiva work? You, the donor/lender, give as little as $25 (or much more) to help someone somewhere to start a business, pay a bill, or go to school. That person eventually pays back the "loan" so that you, the lender can then lend to another person. It's not a handout.
The lending model is truly powerful since the borrowers create jobs and economic value in their community. The benefits just keep recurring.
If you want to see a direct effect from your giving, Kiva is one way to participate in this new type of philanthropy.
Kiva is a 4-Star Charity at Charity Navigator.
---
Our BTSADV "family" provides support in an effort to:
eliminate isolation and suicidal thoughts
reduce anxiety
build trust in healthy friendships
inspire passion
provide tools to manage PTSD symptoms
reduce depression symptoms
BTSADV has grown to become a national nonprofit organization led by survivor-volunteers who serve victims, survivors, and families affected by domestic violence. We understand the unmet needs of survivors and have developed a unique organization that could bridge the gap in services between emergency shelters, direct service providers, government agencies, academic institutions, businesses and the community. Each program we offer is designed to empower, educate, and fulfill the needs of survivors and their families through our unique connective resources.
BTSADV compliments the services crisis shelters offer and assist in decreasing the number of times victims return to abusive partners. Recovering after abuse can be a lifelong journey. We are committed to addressing healing after crisis by providing a national network for survivors to connect, speak out, and advocate against abuse.
We welcome and encourage new partnerships to address the needs of our community and to end domestic violence.
---